Online learning platforms for business are getting popular. Many companies worldwide are using virtual training platforms to educate their employees, customers, and dealers – resellers.
Like many other tasks in a company, training has also moved to digital. However, online learning has its own challenges along with various advantages. To overcome all these challenges, all-in-one online learning platforms for business contribute to the efficiency of the learning process and training management.
What are all-in-one online learning platforms for companies?
They differentiate in the online learning market by offering all the features a company may need for the training. You can use numerous platforms to teach online; however, most of them will fail to provide you with an integrated and ready-to-use live lesson and online test and exam features. Other modules that you will probably need for your training are automated analysis and reports, and certification according to the attendees' success.
When your virtual learning platform doesn't cover all these features, you will need to use third-party applications, which means more work and more spendings. 
On the other hand, all-in-one learning platforms for companies cover all the features you need for managing all the processes. As a result, they allow you to build your online academy without extra effort and extra payments.,
How do the best corporate learning platforms help you?
When everything is one-click-away and ready-to-use, all you need to do is focus on your educational content. Let's look at Vedubox Premium, one of the globally appreciated all-in-one online learning platforms for business. 
Vedubox Premium covers three main products of Vedubox, namely: Vedubox Live, Vedubox LMS, and Vedubox Exam. Here, we can see what LMS is not equal to a virtual learning platform. And with Live and Exam, the missing parts come together, and Vedubox Premium manages to offer an all-in-one platform. 
With such a platform that also allows you to use your corporate identity, you can create your corporate academy with one subscription. 
Let's look at the main features you can do with Vedubox Premium:
Create your course in minutes.
The system allows you to create your customized online courses on various topics. If you need to provide different courses for different departments, it's one click away. Do you have ready educational content? Just upload it to the system and start training your audience. Even if your content was not for virtual training, you easily convert them to digital not to lose time.
Once you create multiple courses on online learning platforms for business, you can categorize them and match each course with the target users as you can manage users by the user assignment feature. In addition, they allow you to offer certain courses to certain people with specific targets.
Share resources with your users.
Each course can have its own resources under the course title, or you can create a general library to give access to all users within online learning platforms for business. It's very beneficial to teach your employees about company culture and keep them updated on your sector.
You can record your live lessons automatically and add them to your course material or library to replay. If you have more videos to support training, you can easily upload and share them. Not only videos, but you can also share your resources in various formats such as PDF, MS Word, infographics, presentations, and more.
Don't bother with multiple platforms, apps, and email traffic. Instead, organize and manage all your educational resources on a single platform. 
Follow the progress of the employees.
Training requires evaluating and tracking the users. Once you start teaching, you will need to know about the attendance and success of your users. With an all-in-one online learning platform for business, you can easily report training attendance, courses and assignments, success, and progress. If you wish, encourage your successful employees by giving them certificates.
Reports and analysis features also cover tracking the engagement, as you can see if they join the discussions on the forum and take the optional exams. So stay informed with regular and automatic reports without effort.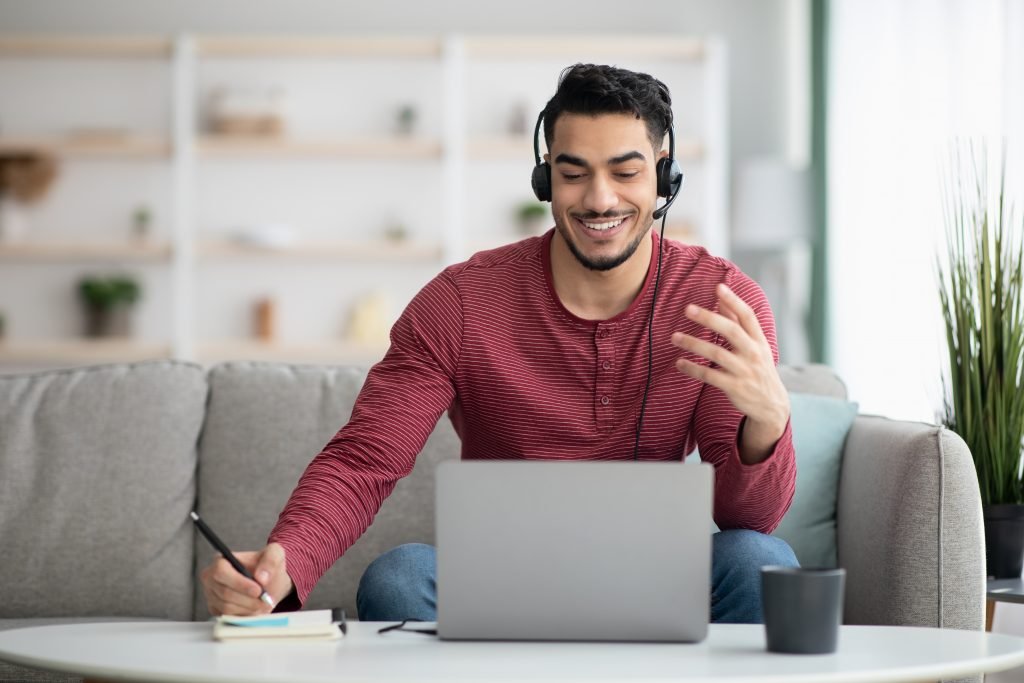 Provide easy usage, easy access.
When you are teaching a big group of people, you cannot expect them all to be tech-savvies. A user-friendly interface helps your users understand what goes on within the system and maximize its impact. Well, even if you need virtual training platforms also for your customers, it is crucial. Customers always expect the easiest access to the information.
Moreover, it's not only about ease to use. You also need to consider the variety of devices in our technology age and adapt to changing available times. Your users can access your content on Vedubox Premium from different devices at any time. So, you help them to align training with their workflow.
The best online business learning platforms are great to help manage your company's teaching process. Bringing all you need in a single platform makes your work easy and helps you gain time and money without compromising the quality.