Plan and track your team's online training process easily.
Schedule your team's live training; automatically notify attendees via SMS and email notifications. Keep live training records and report the whole process.
Highlights of Vedubox Live
Easily organize your training with the Dynamic Live Training Calendar. Create a live event using the calendar screen, provide the direct recording to events and take automatic attendance.
When you use Vedubox Live, you don't need to send a link manually to participate. The participation link is automatically shared with registered members, or users can join the session by clicking the link in the system-integrated calendar.
Add the Video Meeting and Webinar features you need to Vedubox Live for your meetings. Combine the opportunities of Vedubox Live and Vedubox Exam to conduct online exams.
Contact our team to get information about the features you need for online training.
With Vedubox Live, customize the system using the features you need and only pay for the features you use.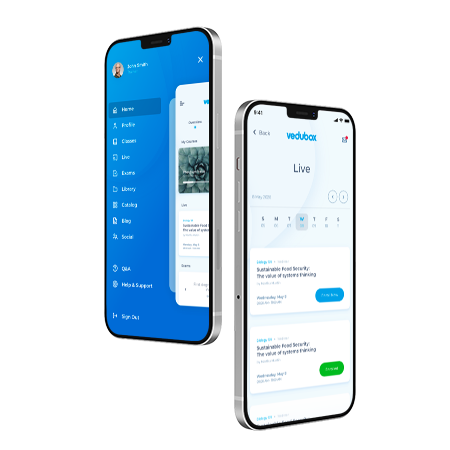 Vedubox joins forces with the world's latest technology products. Vedubox Live adds online training features to video conferencing tools. Enables sending e-mail and SMS notifications to users for live trainings.
Vedubox Live is accessible on different devices. In this way, even if your participants do not use the computer, they can attend the training and access other features easily without sacrificing quality.
Contact our team to learn about the features you need for Vedubox Live.
Training and Content Management Features
With Vedubox Live, you can perform live training by using video conferencing tools within the system. Video and web conferencing tools are integrated with Vedubox Live.
Automatically save your online sessions and training in the Replay section or inside the training to allow replaying. So, facilitate self-paced learning and reinforcement of knowledge.

With the advanced online Exam and Test module to be integrated into Vedubox Live additionally, perform secure exams in the presence of a supervisor. Use different formats of documents and question types to prepare exams. Automatically report the exam results.

Easily keep track of participation in the live events and how actively they use the resources in the system. Automatically report and analyze attendance with the Attendance Report.
Make meetings and training more interactive with Live Survey modules. Add questions to the interactive video for your video training, or boost the engagement in live training with an interactive smartboard.
For Much More
Try Vedubox For Free Now
Fill Out the Form, We'll Contact You Now to Start Your Free Demo and Trial